Concrete Quality Concepts Pvt. Ltd.

(An IIT Madras Incubated Company) learn more

NDT Investigation in Silo @ Ariyalur

NDT Investigation in a jetty @ Vizhag
Concrete Quality Concepts Pvt. Ltd.
Concrete Quality Concepts provides high-level expertise in the areas of non-destructive testing and concrete technology.
CQC provides the civil engineering industry, particularly in Chennai and South India with the appropriate solutions to any issues arising out of concrete quality through in-situ and laboratory testing – these include condition assessment, design and execution of repair and rehabilitation measures.
The cement lab is temperature and humidity controlled for conducting the various tests on cement as per the relevant Indian Standards.
Cement Lab

The chemical lab is equipped with state of the art facilities with Fume Cupboard to evaluate the chemical composition of reinforcing steel rods and water.
Chemical Lab

The lab can give economical concrete design mixes based on trial mixes for the various grades and using mineral admixtures.
Concrete Lab

The laboratory possesses various NDT and partially destructive test equipments like Ultrasonic Pulse Velocity (UPV) tester, Rebound Hammer, Profometer, Half Cell Potential measuring device, etc,.
NDT Lab
Infrastructure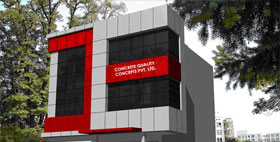 The Laboratory is established in the Ayanambakkam Industrial Estate in the outskirts of Chennai. It is important for a high tech consulting company to spend money on high quality space.
Vision & Mission Statement
Vision: To become a premier organization in providing effective expert services in concrete quality control and condition assessment methodology and technology.
Mission: Developing a scientific and systematic process for condition assessment of concrete structures, and integrating with repair and rehabilitation strategies that are designed and executed for the specific problem. Developing technologies for continuous monitoring of concrete structures.